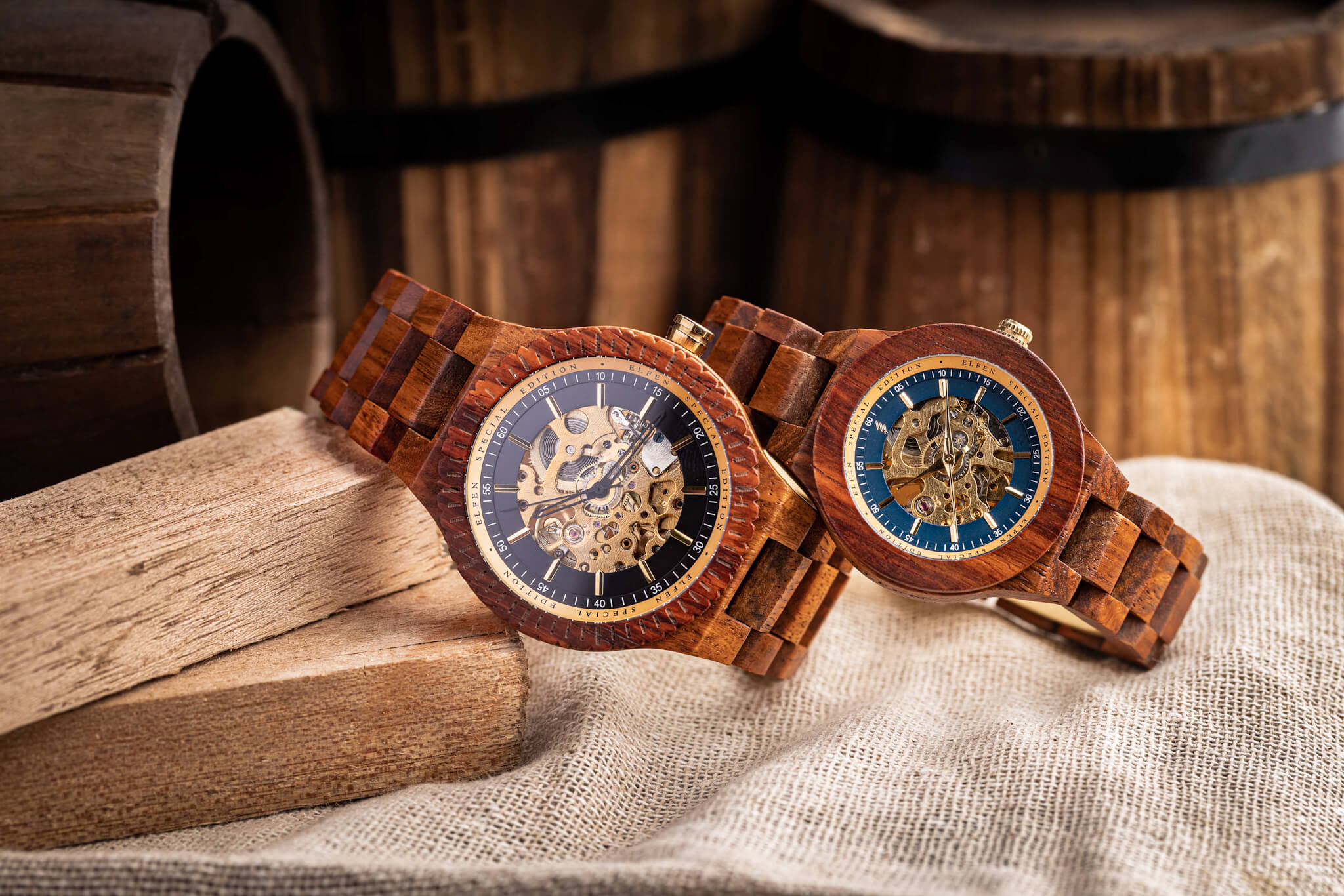 Couple Watch Set ( The Voyager )
Rs. 16,574.00

( 15% Off )
Regular price
Rs. 19,499.00
Overview

Specs

Reviews

Faq
Case Diameter: 37.5 mm  & 47 mm   
Case Thickness: 10 mm & 11 mm
Band Width: 16 mm & 23mm
Wood Type: Kosso Wood & Oak Wood & Zebra Wood   
Lock: Butterfly Lock
Crown: Gold
Movement Type: Japanese 6P20 Chrono Quartz Movement
Water Resistant : 3 TM Splash Proof
GET COMPLIMENTED LIKE NEVER BEFORE: Our Wood Watches are a perfect blend of style and class. Since they are so unique, they always stand out, and you are bound to receive lots of compliments.
 A TIMELESS GIFT THAT HE WILL NEVER FORGET: The majority of our customers have time and again mentioned, how the man they gifted our watch to has totally loved it. Be it Father's Day, Valentine's Day, Birthday, Christmas, graduation, or anniversary, these beautiful timepieces make a perfect Gift.
 SEE THE WATCH GET YOUNGER AND BETTER WITH TIME: Unlike other watches whose texture starts fading with time, all our watches have been designed in such a way that their texture and color actually get better and much more enhanced with time. 
AS LIGHT AS A FEATHER: Each of these wooden timepieces weighs less than 80 grams and comes in a beautiful wooden box.
1 YEAR BRAND WARRANTY: At Spoilt Watches, we offer a 1-year Extended brand warranty to all our customers. The warranty covers any damage to the machinery and watch plating. To claim your warranty, you can directly connect to us on our website.
LOVE IT OR YOUR MONEY BACK: In case you are not satisfied with our Wood Watch, you can return the watch within 5 days of receiving it or ask for a replacement within 14 days of receiving it.
PAY USING EASY INTEREST FREE EMI'S : Shopping ELFEN has never been easier and affordable. Select "SNAPMINT" at the check out, and your order amount is divided into 4, 6 and 9 interest - free payments. You need to pay just 25% of amount at the time of placing your order. To learn more just click on the SNAPMINT widget just below the watch image.
Well if you are still confused about owning a Wood Watch please refer to 7 Reasons You Should Own a Wood Watch in 2023
Supply is limited.
Order Your Elfen Wood Watch Now!
Product Information
Are the watches made of real wood?
Yes, they are. The wood we use originates from all over the world and is selected in several criteria. Our top priority is to be sustainable and to deliver high grade products to our customers.
The different kinds of wood used are indicated on the product pages of the different watches. More information about the different types of wood that we use is available on our Our Story page.
Who designed the movement of my new watch?
We use movements of the highly appreciated Citizen Miyota.
Are the watches waterproof?
No, the watches are not completely waterproof. However, they are splash proof, so some light rain will not hurt your watch. Do not wear your Elfen in the shower or when going for a swim because the warranty does not cover damage from water or any other liquid.
Will the watch fit me?
Yes! The size of your watch can be adjusted by removing some links from the strap. This is easily done by a jeweler, a watchmaker, or yourself.
Your watch can always fit you perfectly!
Can the colors differ from the photos?
As all of our watches are made of natural wood, each watch has its own unique pattern and will therefore differ slightly from the pictures. This makes each piece truly unique.
What type of a battery do you use in Elfen?
The batteries we use in our wooden watches are replaceable. Any watch repair shop or jeweler should be able to assist you with the battery replacement.
Maintenance
You can keep the watch vital by giving it some occasional attention. Make a mixture of olive oil with lemon in equal proportions. Use a cotton bud to apply the mixture to the wood and allow it to dry.
Shipping & Returns Information
Return Policy
We hope that you love everything you buy from us, however if this is not the case, we will refund your item when you return it to us. You would be able to raise the return request within 7 days of receipt of all the products. If you wish to exchange your ELFEN, you can raise an exchange request within 14 days of receipt of the watch. Please click on Return/Exchange to raise your Return or Exchange Request.


Other
Warranty
Every product is produced with an eye for quality, both on the workmanship and the materials that are used. Before a product is sent out, it has undergone multiple tests to ensure a high grade product quality. From the date of delivery the product is warranted for a period of no longer than one year. .
This limited warranty can only be used if the product is used in accordance with the care and operations instructions. Any damage to abnormal usage and wear are not covered by the warranty. Moreover, ELFEN will not be responsible for loss or damage connected to the use of its products, nor the life of the battery. The batteries are replaceable.
If you have a warranty claim, then file a support ticket here : Customer Support
Recently Viewed